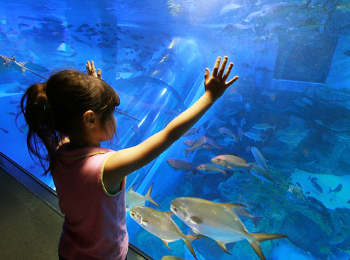 If you are looking for a wonderful place to see some of the rarest, unique and most beautiful fish in the world this year, here's a list of the best aquariums to visit:
John G Shedd Aquarium (Chicago, Illinois, USA)
Located along the gentle waters of the Great Lakes, the John G. Shedd Aquarium in Chicago, Illinois offers visitors stunning contact with many of the world's gentle giants of the sea. Take your family or just spend an enchanting day interacting with hundreds of species of fish, sea mammals and other forms of ocean life. Popular attractions include a great beluga whale encounter exhibit, a Polar Play Zone and the recently remodeled Oceanarium exhibit.
National Aquarium (Baltimore, Maryland, USA)
Just outside of the capital city of the United States is the National Aquarium located in the metropolitan of science and art, Baltimore, Maryland. The National Aquarium is one of the largest and most frequently visited aquariums, and its impressive exhibits and entertainment feature well over 16,500 varieties of fish and sea animals. Guests delight in the dolphin shows or 4-D theatre experience.
London Sea Life Aquarium (London, UK)
Located in the splendid city of London in the United Kingdom a treasure is awaiting visitors this year. The London Sea Life Aquarium is the pride and joy of Europe and features the largest collection of global marine life including tropical fish, seven varieties of sharks, sea turtles, starfish, and the very popular clown fish. Guests can walk through an oceanic adventure tunnel and become part of this serene world.
New York City Aquarium (New York City, NY, USA)
A visit to the New England states wouldn't be complete without a day (or two) spent at the New York City Aquarium located in downtown Brooklyn. There are a multitude of hands on activities to entertain both young and old, such as getting to handle real live horseshoe crabs and sea stars. Or enjoy their massive exhibits of jellyfish, coral reefs and hundreds of tropical fish swimming alongside sharks. Outside, penguins, seals, otters and walruses frolic for all to enjoy.